There are plenty of reasons to escape to our romantic Block Island hotels this winter, not least of which is the opportunity to enjoy some of the finest restaurants on Block Island without the busy summer crowds! Spectacular, fresh-caught seafood and expansive coastal views are just a few of the things you can expect from restaurants on Block Island. There are plenty of options here, including casual eats and romantic fine dining.
Work up your appetite during the day by meandering the trails, visiting the local lighthouses, and enjoying the laid-back vibe of our charming Island, and end it with a delicious meal and enchanting evening at local restaurants. Many of our local establishments also serve as a casual nightlife for the Island, often with live music performances or later night openings for a laid-back evening out after a day of adventure.
Of course, when you're ready to retire for the evening, the welcoming guest rooms at our Block Island Hotels will be waiting for you. From traditional Bed and Breakfast experiences to private, relaxing beachside cottages, we offer the best accommodations on the Island. Book your room at our Block Island Hotels today!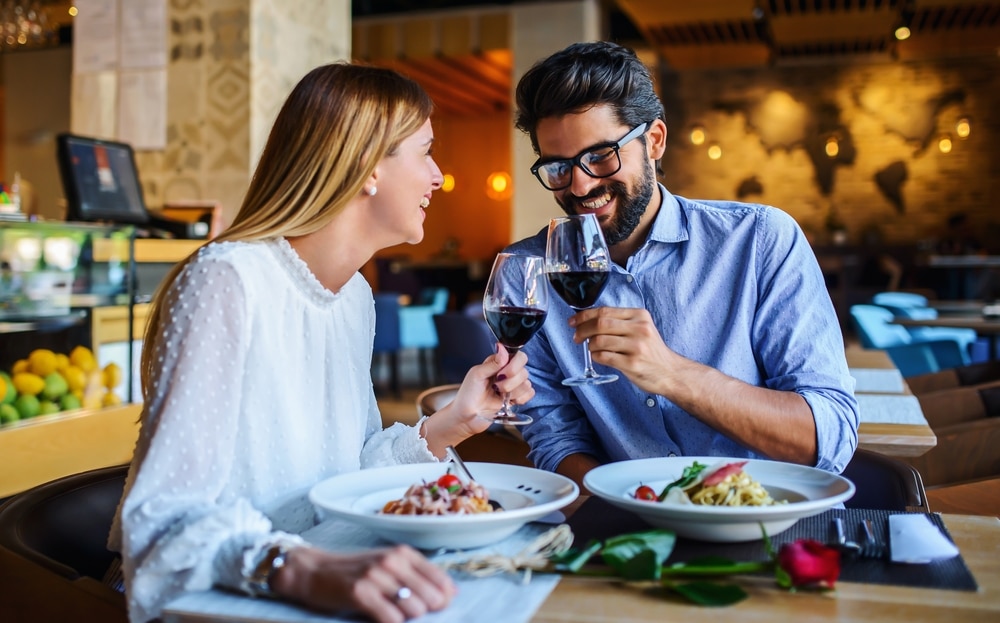 The 8 Best Restaurants on Block Island
The range of restaurants on Block Island is pretty impressive, given its small size. There are more than forty restaurants to choose from, each offering an impressive array of delicious eats to enjoy. Moreover, many of these restaurants on Block Island are easily accessible from our top-rated Block Island Hotels.
Food on Block Island doesn't have to be fancy to be delicious. You'll find some of the best food on the Island at casual eateries and laid-back picnic shacks. Of course, there's plenty of fine dining to be enjoyed here, too, for those romantic evenings out with your special someone. Jackets and ties can be left at home, though, because even the fine dining establishments project a casual ambiance.
Below, find eight of our favorite restaurants on Block Island – and we have even more recommendations waiting for you when you stay at one of our Block Island Hotels!
One of the best restaurants on Block Island for an upscale, romantic dinner out is Winfields. The chef's travels inspire the menu and feature delicious flavors from around the world.
Find delicious seafood, fantastic drinks, and gorgeous sunset views at Dead Eye Dicks. The menu is eclectic, but the seafood is as fresh and good as it gets. Not only that, but it's one of the oldest restaurants on Block Island!
For a delicious lunch and plenty of vegan/vegetarian and gluten-free options, head to Persephone's Kitchen. Their ingredients are as local and fresh as it gets, and everything served is made in-house, leading you to an unforgettable meal.
If you love oysters, don't miss Block Island Oyster Bar and Grill. The oysters are harvested fresh, the ambiance is upscale yet casual, and they have a fantastic cocktail list.
Don't let the name fool you. The food is sensational at Poor People's Pub, and the atmosphere is as charming and authentic as it gets among restaurants on Block Island.
The Oar, which overlooks the Great Salt Pond, is one of our favorite restaurants on Block Island. The ambiance is casual, and they serve up fantastic food alongside gorgeous views of the bay.
Eli's Restaurant is a charming bistro in the heart of Block Island's historic Old Harbor. It's one of the best restaurants on Block Island for those seeking a romantic evening out.
 For some delicious Italian, including wood-fired pizza, head to Aldo's. The seafood and produce are fresh and locally sourced, laying the perfect foundation for a delicious meal out on the town.
Stay at the Best Block Island Hotels
Between meals at these delicious restaurants on Block Island, you'll find plenty to keep you occupied. There are many great things to do on Block Island, no matter the season. From relaxing walks on our extensive nature trails to quiet afternoons combing the winter beaches, there's no better place to escape for a bit of rest and relaxation this winter than our Block Island hotels.
We offer guests several options from our collection of Block Island Hotels. From traditional Bed and Breakfast accommodations to private vacation cottages, you'll find something for everyone, including families, couples, solo travelers, and those traveling with pets. Not only do we offer some of the most comprehensive Block  Island lodging, but our Block Island hotels are some of the only beachfront lodging properties on the entire Island.
From the moment you arrive at our Block Island Hotels, you'll see and feel the difference. We'll warmly welcome you and treat you to exceptional hospitality throughout your entire stay. You'll enjoy all the creative comforts you crave from home, including all the modern amenities you want and need. We've thought of everything to give you the comfortable oasis you desire.
Block Island in winter is the perfect place to unwind and escape the chaos of the season. Our Block Island Hotels are the ideal place to retreat before or after the holidays. Book your room with us today!