How to Get to Block Island and Get Around
Interested in visiting us here on Block Island? There are only two ways: the Block Island ferry or by plane to the Block Island airport.
Once you're here, there are plenty of things to do on Block Island without a car, like getting a moped rental or biking around the island. You can also enjoy some fantastic Block Island kayak tours, including Pond and Beyond Kayak Tours.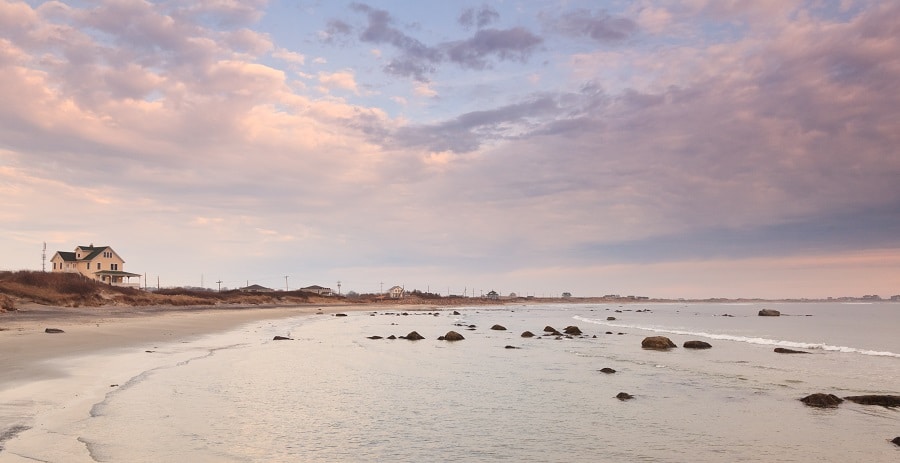 Located just 13 miles off the coast of the Ocean State is beautiful Block Island. Although it can only be reached by air or sea, this breathtaking destination is waiting to be experienced no matter what your interests are. Whether you're looking for a romantic getaway or an epic family vacation, you'll love every minute you spend on this dreamy island. Whether you're the outdoors adventure type, or just prefer to kick back on the beach with a good book to catch up on some reading, you'll find the perfect things to do on Block Island for your taste. While there is no shortage of activities to be found on this tiny dream of an island it's also the perfect opportunity, at least for a moment, to do nothing at all.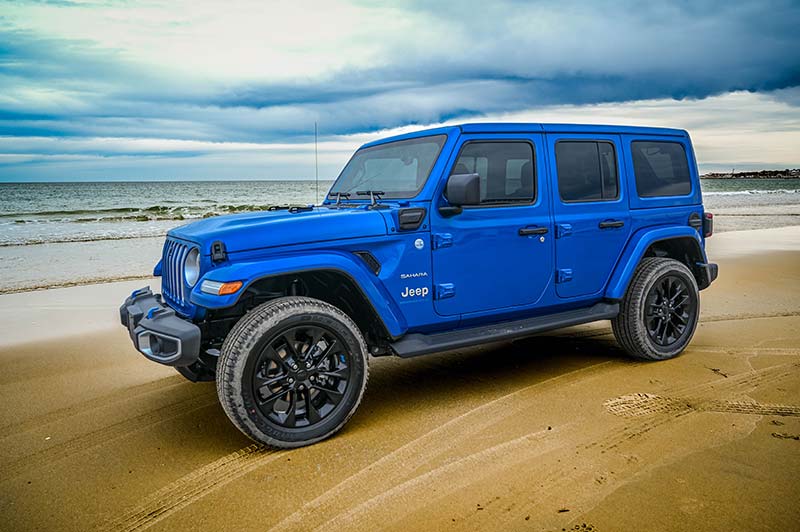 Want to drive around Block Island in style?
Guests can rent this awesome Jeep Wrangler Sahara when on the island. Make a reservation through Turo.
---
Top 10 Things to Do on Block Island
Wondering what to do on Block Island? While famous for their beaches, there are more Block Island activities than just lazing on the beach, though that will be a main highlight of your trip to this remote New England island. A getaway destination going back many generations, Block Island is seasoned in entertaining tourists, with locals aiming to keep its history alive by restoring buildings, and maintaining the island's natural beauty. An abridged list of our favorite Block Island attractions include:
Block Island Beaches
The most obvious pastime on this three-by-seven mile island (to answer the question of, "how big is Block Island?") whose perimeter is almost entirely made of beaches is to, you guessed it, enjoy the beach. You can literally walk in any direction on Block Island and run into one of its's gorgeous and enticing beaches. Mohegan Bluffs is the most notable beach on the island and sits at the base of grassy cliffs with a long, steep staircase leading down to the it. Mansion beach is another favorite, but really you can't go wrong no matter where you end up.
The North Lighthouse of Block Island
There are two lighthouses marking Block Island from the sea. The North Lighthouse is built from granite and sits on Sandy Point, the northern tip of the island. This is a great place to ride bikes out to, and there are beautiful trails to walk along once there.
Walks on Block Island
Hiking is yet another one of the great things to do on Block Island, and will take you out to its more secluded corners. There are numerous trails to choose from, and the wildlife is prevalent. The Clayhead Nature Trail will take you through one of the island's many land conservation projects. You'll walk over dunes, through a forest and end up at a beautiful beach where, weather permitting, a swim is certainly in order. Other fantastic areas for relaxing walks to enjoy the natural beauty of Block Island include Rodman's Hollow and the Greenway Trail.
Manisses Animal Farm
Owned by the Abrams family, this family fun animal farm is a great place to get a peek at some of the most rare animals that you may ever have a chance to see. This is one of the best things to do on Block Island with kids, they'll love seeing these strange creatures stomping around their farm. If you love to knit or crochet you can also visit North Light Fibers, which is right on the farm and uses fibers from these very same animals in their yarns.
Block Island Southeast Lighthouse
The most visually striking lighthouse on the island, this station was first lit on February 1st, 1875. The ancient red brick gothic style tower and house are not only one of the most beautiful places to visit on the island, but also the most historic. Visit the house's museum and learn about the building reasons and process, and hear the lighthouse's many ghost stories. This makes for a closer trip from downtown.
Old Harbor Historic District
Listed on the National Registry of Historic Places, this downtown New Shoreham district is hard to miss when you're visiting Block Island. Be sure to take a walk through these blocks and appreciate all the restored churches, shops and homes that have existed since the island's first settlers.
Hodge Family Wildlife Preserve
This beautiful 25 acres of conservation in the Northwest corner of the island connects to the Block Island National Wildlife Refuge, expanding the island's conservation area. The meadowland area is full of goldenrod while the maritime shrubland is mostly bayberry, arrowwood, and black cherry. You can expect to see many migratory birds and maybe even a meadow vole.
Peleg Champlin House
One of the only standing wood-built houses from its era left on the island, visiting this historic site is one of the best things to do on Block Island RI. Built in 1820, you'll love this federal style house built by Peleg Champlin, a farmer from one of the island's oldest families.
Block Island Sailing
Some would argue that Block Island is best observed when gliding along the water carried by the whim of the winds. These are undoubtedly the many avid sailors that live in this island community or are annual visitors who come largely for the boating culture. Block Island sailing is not only prevalent, but it is world renowned for both quality and scenery. The island hosts annual races, puts on summer camps, and offers classes for all skill levels, meaning it's not just a place for experts, but simply one for water enthusiasts who want to make the most of their time at the ocean.
A trip to Block Island is a no-brainer if island life is at all appealing to you. The 17 miles of beaches, down-to-earth residents and laid back lifestyle are all it takes to woo first time visitors into lifelong vacationers. At Block Island Inns we try to make your stay here as memorable as possible with elegant accommodations, and great hospitality. Our beautiful inns are an excellent alternative to the typical Block Island hotels. There's no need to keep searching for one of the best places to stay on Block Island!
---
Even More Things to Do on Block Island
The list of activities and attractions on Block Island is fairly extensive for such a small island!
Block Island Horseback Riding
There are few ways to explore a remote island better than on the back of the horse, and Block Island is home to some of the most epic island rides on the East Coast. Block Island horseback riding is one of those favorite island experiences. Whether you want to catch the earliest ride of the day over sand dunes, through forests and the splashing waves or wait until sunset to add some romance to your ride, you will love seeing this island on horseback.
Block Island Boat Rentals
If you have experience and a license, check out Block Island boat rentals and get everything from canoes and kayaks to motor boats, sailboats, and sea-doos. Don't miss the opportunity to spend some time on the water while visiting the island.
Restaurants on Block Island
A vacation wouldn't be complete without equally impressive places to eat after a day of exploring this remote destination. Whether you're looking for craft beer and a burger or enjoying fresh seafood at a table for 2 overlooking the water, there are many restaurants on Block Island that will satisfy you. Block Island Inns bed and breakfast is well known for their gourmet breakfast, which is the perfect way to start the day, and will have you looking forward to similarly delicious meals around the island for the remainder of your day.
Block Island Fishing
Block Island fishing has long been known by anglers nationwide. Our small island is a haven for any person seeking the rush of hooking a tuna or wrestling with a ferocious bluefish until you think your arms might fall off. Whether you want a leisurely cast off the beach or a serious scouting trip into deep waters with Block Island fishing charters, a fishing trip to Block Island won't disappoint. There are many experienced local guides from whom you can charter a boat and have some help hooking a big one. Ask about bringing back your fresh catch so our chef can prepare something special for you.
Things to Do on Block Island in the Winter
Come kick back, relax, and enjoy the beauty of the off season! We're happy to customize your stay over Thanksgiving, Christmas, New Year's and Valentine's.