There are so many wonderful things to do on Block Island, but visiting the beach is an absolute must. Luckily, it's easy! There are seventeen miles of Block Island beaches to explore, all of which are open to the public and mostly easy to access. That includes the Block Island beaches right here in front of our Inns!
We're one of the few places to stay on Block Island located right on the beach – and that's true whether you stay at our family-friendly Blue Dory Inn, the couple's only Avonlea, or our family-friendly Block Island vacation cottages. Though our beachfront locations certainly make us one of the best places to stay on Block Island, that's just one of the many reasons people choose to stay with us every time they visit.
Like the rest of the island, staying with us is like coming home. We offer personalized service that can't be beaten; a true island paradise. We'll also share our favorite island secrets with you, including sending you to the best Block Island beaches. Fall, winter, spring, or summer – there's never a bad time to visit us on beautiful Block Island. Book your room with us today!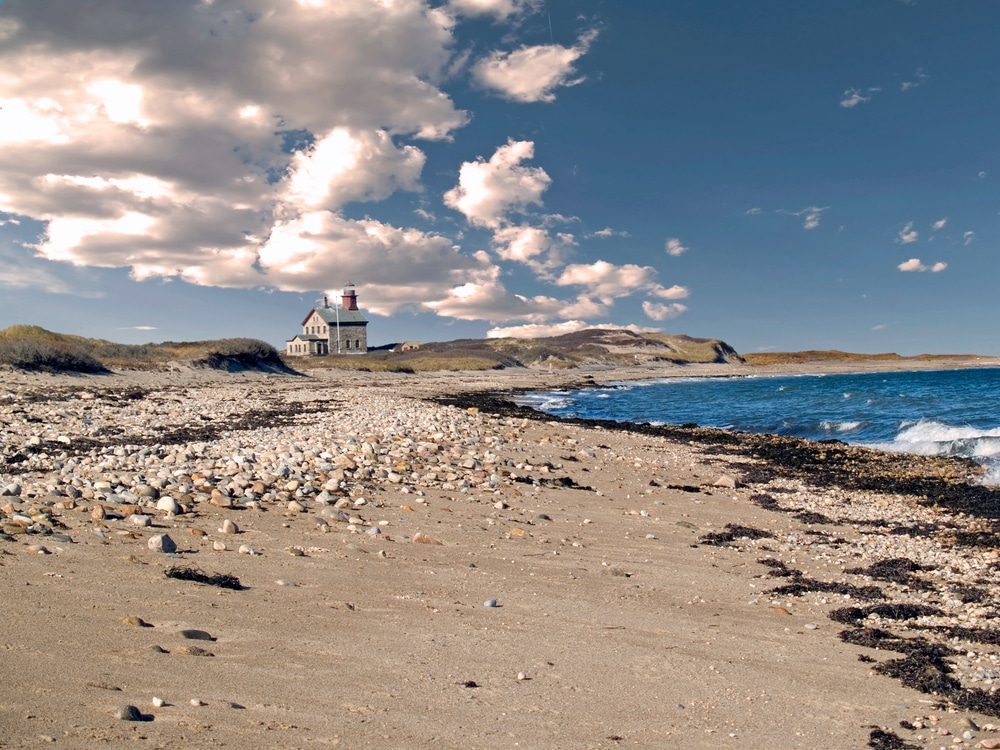 The 8 Best Block Island Beaches
Block Island is pretty small – it's only three miles wide by seven miles long. But its seventeen stunning miles of shoreline are almost all beach, and unlike many other islands, these Block Island beaches are open to the public. They're even pet-friendly! Thanks to the dedication to preservation around the Island, Block Island beaches are some of New England's nicest.
You don't have to go far to enjoy the best Block Island beaches, either – as we sit right on the beach here at our Block Island Bed and Breakfasts! Crescent Beach, one of the most popular (and busy) Block Island beaches, is walkable from our location, too. Apart from enjoying a day on this two-mile sandy paradise, there are other great Block Island beaches worth visiting, and we've listed our favorites below.
We've already mentioned it, but Crescent Beach is easily the most popular beach on the island. It's a two-mile stretch of sand that stretches from Block Island's Old Harbor district to Clay Head Nature Preserve. The beach is easy to access, especially for those guests who come to the island without a car, and it offers beautiful views and warm sands.
If you're looking for a hidden gem of a beach, head to Mansion Beach. There, you'll find soft white sand, gorgeous clear blue water, and big waves to play in. The traffic to this beach is lower, too, which means you can enjoy a much quieter day at the beach here.
Fred Benson Town Beach is perfect for families visiting our Block Island Bed and Breakfasts. There are great amenities here, including showers, restrooms, concession stands, and beach equipment rentals – in short, everything you need to enjoy your days at Block Island beaches!
If you want to do some snorkeling, head to Surf Beach. It's not too far from our Inns and cottages either, making it a quick and easy place to get in the water and have some fun.
For breathtaking views of our island paradise and the surrounding waters, head to Mohegan Beach. It's a little harder to access, with 141 steps down to the beach, but you'll be so glad you made the trek down there. Not only is this one of the most secluded Block Island Beaches, but it's unbelievably beautiful. The beach is surrounded by 200-foot cliffs and dramatic coastal scenery.
If you're enjoying a romantic getaway on Block Island, don't miss the chance to take in a sunset from Grace's Cove – arguably the best place for sunsets on Block Island. It's also quite a ways away from town, which means unlike other Block Island beaches, you won't find big crowds here.
If you're looking for sealife, don't miss the beach at Great Salt Pond (aka New Harbor).
For those romantic long walks on the beach, we recommend the beach in front of the popular North Light at Cow Cove. This is one of the few Block Island Beaches where you'll want to stay on dry land, though. The rip current off the shore here is dangerous and unsuitable for swimming.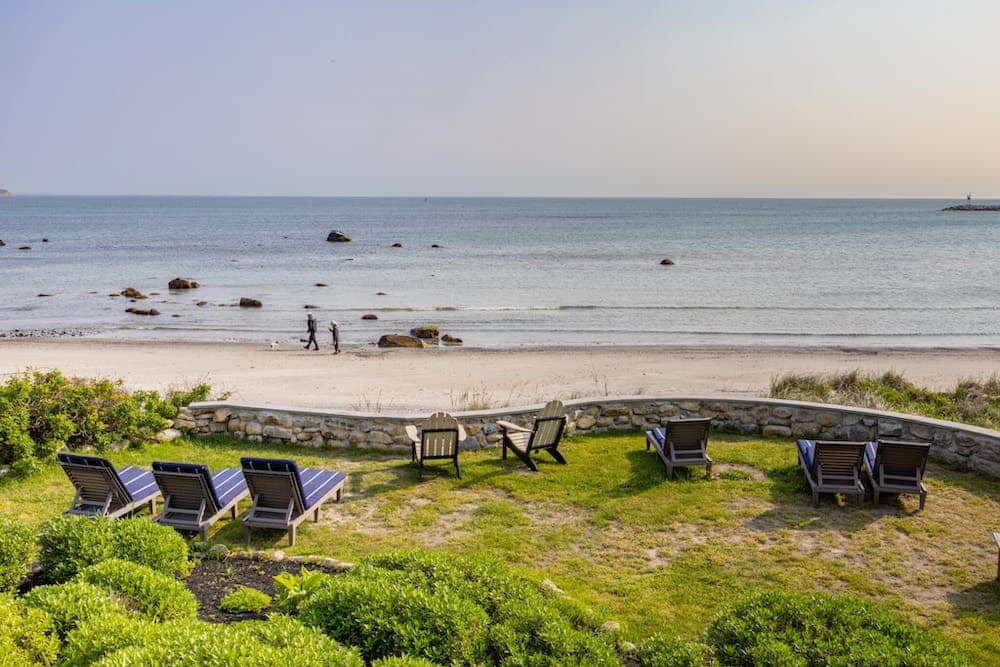 The Best Places to Stay on Block Island
Whether you'd prefer to do nothing beyond enjoying the best Block Island beaches or you want to explore the island's trails, bikeways, lighthouses, and more, there's nothing better than our Block Island Bed and Breakfasts when it comes to island lodging. Not only are we one of the few places actually on the beach, but we're consistently rated as one of the best places to stay on Block Island.
We've been welcoming guests at our Block Island Bed and Breakfasts for over thirty years – and have seen more than one generation pass through our doors. For our guests, staying with us is like coming home to their treasured summer escape. Over our thirty years in business, we've added diversity to our accommodations, so there's something here for everyone.
Whether you're taking a vacation with your family or a quiet, romantic retreat with your special someone, you'll find it here. The Blue Dory Inn and our Block Island Vacation Cottages are perfect for families and those traveling with pets, while Avonlea is perfect for couples and intimate, romantic escapes. Regardless of the property you choose, you'll find from our collection of Block Island Bed and Breakfasts one of the best places to stay on the island.
Though it's a nice perk that our Inns are conveniently located on the beach, and close to town, we are so much more than our location. We also offer warm, welcoming hospitality, personalized service, and attention to detail unrivaled on Block Island. One stay here, and you'll see why our guests return and continue to rate us as the best places to stay on Block Island. Book your room with us today!